Tundra Rescue provides rope access teams for industrial tasks in Ontario and beyond
Many types of work sites across all kinds of sectors may have areas that are difficult to access where traditional access methods like scaffolding or boom lifts are not appropriate or inefficient. These could include high rise walls, roofs, tanks, pipelines, towers, and shafts.
In situations like this the use of rope access teams and techniquies to reach certain areas or handle specific tasks could be a beneficial way to access these areas. Even tasks like painting and cleaning within a tall structure can often become much easier when you have rope access teams who can get to spaces that are normally very difficult to reach. At Tundra Rescue, we have a rope access team that provides this service for your Ontario facility.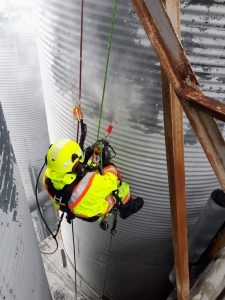 Every member of our rope access team is highly trained and efficient. When you rely on our rope access team, you may be able to minimize the costs that come with using scaffolding or other systems that are commonly used to reach high areas.
Additionally, setting up scaffolding can be time-consuming and may even require complete shutdowns of portions of the job site or structure to accommodate it. With rope access teams, you don't have to worry about shutting down your site or paying high financial and time costs to get scaffolding set up.
At Tundra Rescue, we work closely with all types of commercial clients. All of our experienced technicians are accredited through SPRAT (Society of Professional Rope Access Technicians) or IRATA (Industrial Rope Access Trade Association).
Many of our rope access team members also have relevant commercial trade and technical skills including welding, electrical work, fabrication and similar, and are able to handle a wide range of needs.
If you want to find out how we offer more than just rescue services and how our rope access team can benefit your business, contact us to learn more.
---