Confined space safety assessments and advice
As well as providing onsite confined space rescue and safety standby teams, Tundra Rescue also offers other advisory and consutlancy services in relation to working in and around confined spaces, including confined space assessment services and other types of confined space safety advice.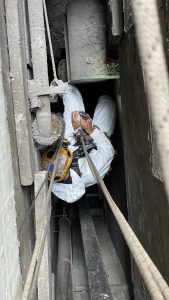 These services include assistance with the implementation of Ontario Regulation 632/05 and other official legislation and guidelines concerning confined space access, advice on confined space compliance, and confined space rescue solutions.
Following an established consutlancy model our team has delivered confined space safety advice and confined space assessments for companies invovled in various types of industrial manufacturing and food and beverage production in Ontario.
As well as advice on the classification of confined spaces in facilities and advice on compliance with Ontario Regulation 632/05, we also offer independent reviews and audits of existing confined space safety policies, and where necessary the direct development of relevant policies and procedures for our clients.
Our familiarity with so many different types of industries and sectors allows us provide confined space assessments and advice that not only ensure compliance, but also take into the account the specific industry needs of our customers.
With our confined space services, including advice, access and standby rescue, we aim to make your operations efficent and safe, helping our customers successfully reach their project and program objectives.  For additional information about our confined space assessment process contact us at Tundra Rescue today.
---
Similar Services We Offer:
Confined Space Assessment in Toronto