As Ontario begins to open up again for business and other aspect of life we would like to wish our customers, staff and friends a very Happy Canada Day.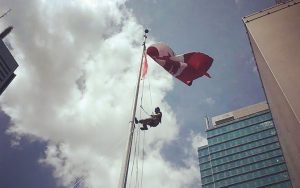 While recognising that many businesses are, unfortunately, continuing to be severely effected by the present situation we are nonetheless pleased to say that June was a relatively busy month for us at Tundra Rescue, and also it seems that, broadly speaking, volumes of current work have also begun to increase again for our clients too.
In addition to providing our normal confined space rescue support to regular customers working in different types of manufacturing and engineering, this month we also had the pleasure of assisting some paintings and coatings companies in the Greater Toronto Area with their projects. Our support here included using rope access techniques to allow our technicians and sometimes their staff too, to reach parts of buildings and structures where the use of boom-lifts was not possible, and where rope access offered a very economic and practical alternative to scaffolding.
One of the consequences of this Coronavirus pandemic has been that in all kind of industries and sectors businesses and managers have been forced to re-examine or find alternatives to the traditional ways in which things have been done, and this has led us to reflect on some of the experiences we have had in the past as a rope access provider, where it has sometimes been a challenge to persuade people that rope access really is a more effective alternative to the way in which a task has been done traditionally. *
On some occasions we've even been able to show that rope access can be used accomplish tasks that were not thought to be practically possible, like in this photo where we were able to use rope techniques to rehabilitate a flagpole on top of a high rise building to allow the national flag to be flown on Canada's national day.
[ * For more information about the types of tasks and industries that rope access can support, please take a look at our Infographic a few posts back on this new page by following this link.]