Our SPRAT certified rope access rescue standby team is ready to help you and your employees during critical times.
If you have any experience or knowledge of rope access operations, you have probably heard of SPRAT certification. If you have never needed to know about rope access, chances are pretty good that you have no idea what SPRAT certification is or the meaning of the acronym SPRAT. SPRAT stands for Society of Professional Rope Access Technicians and it is one of the industry-leading certifiers for rope access companies like us. Tundra Rescue has been SPRAT-certified and providing rope access solutions for companies and organizations in and near Toronto and throughout Ontario since 2011.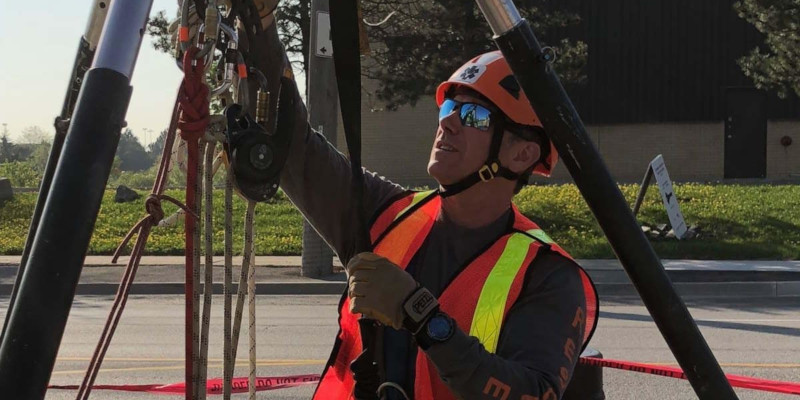 Tundra Rescue was founded by Canadian military veterans, and we have taken the best values associated with military service, including efficiency and integrity, and created a company that delivers versatile solutions to safety and access problems in a variety of industries, including the following:
Chemicals plants
Wind farms
Construction sites
Painters
Property Management and Property Maintenance
Engineering
Cleaning firms
Mining and the Extractive Industries
Manufacturing facilities
Security and Defence Organizations
Rope access can open up a safe, versatile option for your vertical access problems. It can save you time and money by eliminating the need for scaffolding, mechanical lifts and cranes. It saves you the setup time and breakdown time that other solutions require. The mission of SPRAT is to advance the safe use of rope access, educate others on rope access protocols and best practices, develop standards for the industry, and administer certifications. There are three different levels of SPRAT certification and to achieve each level there is a required written test, verbal test and a hands-on physical assessment. Our certification assures you that our technicians have the knowledge and experience needed to provide superior results for you and your employees.
To learn more about SPRAT and discuss your rope access needs, give us a call today.
---