Prevent unexpected wind turbine shutdowns with prompt repair work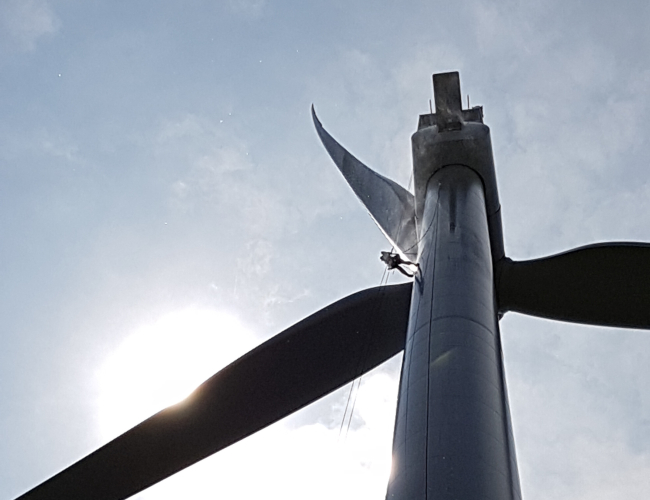 Keeping turbines online and preventing downtime are vital in the wind energy industry.
As a leading wind turbine repair, maintenance and support provider in Ontario, Tundra Rescue can assist with minimizing operational costs by helping you efficiently access targeted repairs using rope access techniques to keep wind turbines operating reliably, effectively, and efficiently.
Our technical expertise and rigor allow us to identify and remedy or repair wind turbine blades promptly and safely using rope access techniques backed by SPRAT methodology as our primarily method of access.
Our rope access teams and Global Wind Organisations (GWO)- qualified rope access technicians can efficiently access internal and external areas of wind turbines to provide repair and maintenance services, including confined spaces within the turbine structure, and they are committed to exceptional customer service,  workmanship, and superior reliability.
Maximize the life and efficiency of wind turbines and your blades by identifying and repairing faults and damage quickly with our support and oversight. For more information about how prompt wind turbine repair can prevent catastrophic failures, or to schedule an inspection, contact us today.